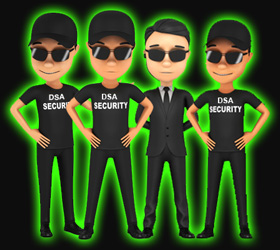 DSA Security is an innovative new manpower security company focused on delivering an accountable service for our customers. The security sector being primarily a service based industry we believe our customers' service should be paramount in our procedures.
Customer Service
Our management and service teams have strong customer service focus and are passionate about delivering a one stop shop for all manpower security requirements. See the Home Page for a quick link to the services we provide.
Accountable Service
DSA Security utilises several different reporting mechanisms and management systems to provide transparent reports to our customers. Our reporting mechanisms rely on a third party and independent QR Tag System which pinpoints officers' location using GPS to each QR tag. These reports are made available to our customers upon request.
If you would like to know more or if we service your area? Check out the map or give us a call...